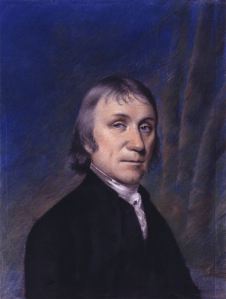 Below is an excerpt from Joseph Priestley's (1733 - 1804) pamphlet "A General View of the Arguments for the Unity of God," published in 1794. The excerpt comes from the pamphlet's third section which enumerates arguments from the Scriptures against the trinitarian doctrine.
Best known as the scientist who discovered oxygen, Priestley was also a Christian minister. He immigrated from England to Philadelphia, Pennsylvania, in 1794 because of increasing pressure against him regarding his unitarian Christian writings. In Philadelphia, he helped establish the first church in America that called itself "Unitarian."
——————-
I shall now show, in as concise a manner as I can, that the doctrine of the Trinity . . . has as little countenance from Scriptures as from reason. The Scriptures teach us that there is but one God . . . and that he sent Jesus Christ to instruct mankind, empowered him to work miracles, raised him from the dead, and gave him all the power that he ever was or is now possessed of.
1. The Scriptures contain the clearest and most express declarations that there is but one God, without ever mentioning any exception in favor of a trinity, or guarding us against being led into any mistake by such general and unlimited expressions. "Thou shalt have no other God before me" (Exod. 20:3); "Hear, O Israel, the Lord our God is one Lord" (Deut. 6:4); "The first of all the commandments is, Hear, O Israel, the Lord our God is one Lord" (Mark 12:29); "To us there is but one God, the Father, of whom are all things, and we in him, and one Lord, Jesus Christ, by whom are all things, and we in him" (1 Cor. 8:6); "One Lord, one faith, one baptism, one God and Father of all, who is above all, and through all, and in you all" (Eph. 4:5, 6); "For there is one God, and one mediator between God and men, the man Christ Jesus" (1 Tim. 2:5).
On the other hand, not only does the word trinity never occur in the Scriptures, but it is nowhere said that there are three persons in this one God; nor is the doctrine explicitly laid down in any other direct proposition whatever. Christ indeed says (John 10:30), "I and my Father are one," but he sufficiently explains himself by praying that his disciples might be one with him in the same sense in which he was one with the Father (John 17:21, 22): "That they all may be one, as thou Father art in me, and I in thee, that they also may be one in us; and the glory which thou gavest to me, I have given them, that they may be one, even as we are one."
2. This one God is said to have created all things, and no intimation is given of his having employed any inferior agent or instrument in the work of creation. "In the beginning God created the heaven and the earth" (Gen. 1:1); "God said, let there be light, and there was light," etc. (v. 3); "By the word of the Lord were the heavens made, and all the host of them by the breath of his mouth" (Ps. 33:6); "He spake, and it was done; he commanded, and it stood fast" (v. 9); "Thus saith the Lord, thy redeemer, and he that formed thee from the womb, I am the Lord that maketh all things, that stretcheth forth the heaven alone, that spreadeth abroad the earth by myself" (Isa. 44:24).
3. This one God is called the Father, that is, the author of all beings, and he is called God and Father with respect to Christ, as well as all other persons. "Labour not for the meat which perisheth, but for that meat which endureth unto everlasting life, which the Son of man shall give unto you, for him hath God the Father sealed" (John 6:27); "That they might know thee the only true God, and Jesus Christ whom thou hast sent" (John 17:3); "Go to my brethren, and say unto them, I ascend unto my Father, and your Father, and to my God, and your God" (John 20:17); "That the God of our Lord Jesus Christ, the Father of glory, may give unto you the spirit of wisdom and revelation in the knowledge of him" (Eph. 1:17); "We give thanks to God, and the Father of our Lord Jesus Christ" (Col. 1:3).
4. Christ is said expressly to be inferior to the Father; all his power is said to have been given him by the Father, and he could do nothing without the Father. "My Father is greater than I" (John 16:28); "Ye are Christ's, and Christ is God's" (1 Cor. 3:23); "The head of Christ is God" (1 Cor. 11:3); "Verily, verily, I say unto you, the Son can do nothing of himself" (John 5:19); "The words that I speak unto you I speak not of myself, and the Father that dwelleth in me he doth the works" (John 14:10); "All power is given to me in heaven and in earth" (Matt. 28:18); "He received from God the Father honour and glory" (2 Pet. 1:17); "The revelation of Jesus Christ, which God gave unto him" (Rev. 1:1). . . .
5. Some things were withheld from Christ by his Father. "But of that day, and that hour, knoweth no man; no not the angels that are in heaven, neither the Son, but the Father." (Mark 13:32); "To sit on my right-hand and on my left, is not mine to give; but it shall be given to them for whom it is prepared of my Father" (Matt. 20:23).
6. As all the dominion that Christ has was derived from the Father, so it was subordinate to that of the Father. "Then cometh the end, when he shall have delivered up the kingdom to God, even the Father, when he shall have put down all rule, and all authority, and power. For he must reign till he hath put all enemies under his feet. The last enemy that shall be destroyed is death. For he hath put all things under his feet. But when he saith that all things are put under him, it is manifest that he is excepted who did put all things under him. And when all things shall be subdued to him, then shall Son also himself be subject unto him who put all things under him, that God may be all in all" (1 Cor. 15:24ff.).
7. Christ always prayed to the Father, and with as much humility and resignation as any man, or the most dependent being in the universe, could possibly do. Our Lord's whole history is a proof of this; but especially the scene of his agony in the garden: "And he began to be sorry and very heavy. Then saith he unto them, My soul is exceedingly sorrowful even unto death, tarry ye here, and watch with me. And he went a little further, and fell on his face and prayed, saying, O my Father, if it be possible, let this cup pass from me; nevertheless, not as I will, but as thou wilt" (Matt. 26:37ff.).
8. Christ is not only styled a man even after his resurrection, but the reasoning of the apostles, in some of the passages where he is spoken of, requires that he should be considered as a man with respect to his nature, and not in name only, as their reasoning has no force but upon that supposition. "Jesus of Nazareth, a man approved of by God, by miracles and wonders and signs, which God did by him in the midst of you" (Acts 2:22); "Wherefore it behooved him in all things to be made like unto his brethren" (Heb. 2:17); "It became him for whom are all things, and by whom are all things, in bringing many sons unto glory, to make the captain of their salvation perfect through sufferings" (Heb. 2:10); "For since by man came death, by man came also the resurrection from the dead, for as in Adam all die, even so in Christ shall all be made alive" (1 Cor. 15:21).
9. Whatever exaltation Christ now enjoys, it is the gift of his Father, and the reward of his obedience unto death. "And being in fashion as a man, he humbled himself, and became obedient to death, even the death of the cross. Wherefore God also hath highly exalted him, and given him a name which is above every name" (Phil. 2:8, 9); "But we see Jesus, who was made a little lower than the angels for the suffering of death, crowned with glory and honour" (Heb. 2:9); "Looking unto Jesus, the author and finisher of our faith, who for the joy which was set before him endured the cross, despising the shame, and is sitten down at the right hand of the throne of God" (Heb. 12:2). . . .
No person, I think, can, with an unprejudiced mind, attend to these considerations and the texts of Scripture above recited (which are perfectly agreeable to the tenor of the whole), and imagine that it was the intent of the sacred writers to represent Christ either as the supreme God, or as the maker of the world under God.